Process Potatoes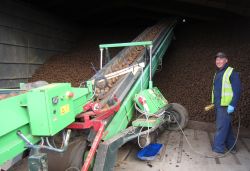 We are one of the UK's largest suppliers of potatoes to the processing industry, supplying over 100,000 tonnes annually.
Our services span field-to-factory supply chain management, including vendor assurance, crop and store sample quality analysis, washing and grading, just-in-time logistics and exceptions management.
.
To keep one of Europe's most productive crisping operations running 24 hours a day, we maintain a daily presence at the plant and direct dialogue with our customer's production managers, medium term market planners and long term demand forecasters.

Vendor Assured supply requires the highest standards of quality management.