Transport and Logistics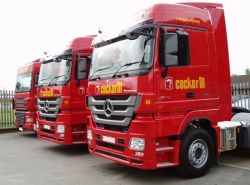 The success of our business rests upon the security and reliability of service to all our customers.
We operate a dedicated fleet of articulated and rigid vehicles, with a pool of over 50 trailers including insulated box vans, refrigerated units and self-tip bulkers, whilst every delivery is tracked and logged using advanced GPS technology.
Whether it is the smallest drop on a morning market run, the import of thousands of tonnes of French early crop or meeting a midnight schedule change from a processor, our service objective is the same:
On time, every time.
We maintain a fleet of insulated van trailers for bulk supply of crisping potatoes. A pool of trailers on site at the customer plant provides sufficient buffer stock to absorb short term variations in plant operating rates and bulk load arrivals.