Seed Potatoes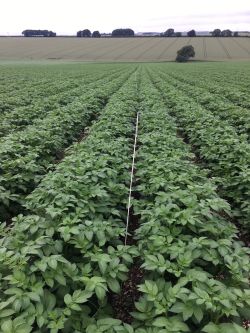 Each year we supply over 7,500 tonnes of seed stocks to our growers, the majority of which are delivered by our own transport fleet. Close relationships with our contract seed growers and suppliers span many years, and over this time we have developed a competent and flexible supplier base that is highly effective at producing seed to the requirements of the expanding grower group we serve.
Our contract seed production is based on the higher ground in North and East Yorkshire and predominantly centred on the Yorkshire Wolds. This area is characterised by free draining lime-rich soils over chalk and limestone. These free draining soils allow timely operations and a dry environment which is less favourable to Blackleg, one of the most important tuber borne diseases.
We are members of and trade under the terms and conditions of the British Potato Trade Association (BPTA) and we are also members of Yorkshire Highland Seed Potato Growers Association.