The Potato Supply Chain - From here to ware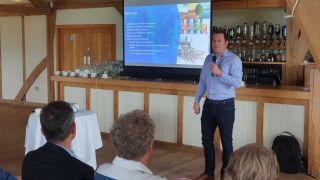 Last Thursday we held our Annual Grower Conference at Sandburn Hall after a two year hiatus. It was a packed event, with the invites opened up to all our suppliers from fresh through to seed potato growers. All keen to hear from our fresh and retail customers on how their businesses have been affected over the last years, and their plans for the future. Ian Rigby and Rudolf Badenhorst kicked off the event, explaining how they intend to integrate their regenerative Positive Agriculture plans. We heard from Richard Smith, Aldi Buying Director for vegetables explaining the discount retailers position in the market place and how it still has ambitious plans for growth.
Later in the morning Patrick Graf Grote from Grimme spoke on the use of technology in automating crop production and handling systems. Robotics not such a farfetched idea in the potato field. Oliver McEntyre from Barclays's closed off the event explaining the pressures on farming incomes going forward and what his bank will be looking for in its customers. Demonstrating sustainability, by all its definitions will be crucial. Some lively questions were followed by a very enjoyable lunch for all.
Thank you to all our speakers, and those that attended.