Nuffield Scholar at R S Cockerill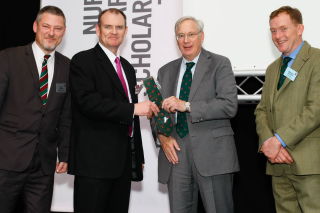 Rapidly changing dynamics in the potato industry have lead Rufus Pilgrim, our Commercial Director to study the issues through a Nuffield Scholarship. As suppliers to the discount retailers and the crisping industry, there are shared concerns in both sectors over the resilience of the supply chain in its current form. After a considerable drop in the acreage of potatoes, Rufus believes: "We need to adapt to meet changing customer expectations. For this business to maintain the growth and success it has had to date, we need to build in long term resilience to provide a safe, secure and sustainable supply of suitable raw material for the future".

The intention is to look at the competition in Europe, before embarking on tours of the United States, the Southern Hemisphere, and Asia. "I want to look at examples of alternative supply chain models, that could be adapted to work in our industry which will deliver quality expectations, while still remaining competitive, and provide some long term resilience for producers and the value added sector".

Rufus is pictured receiving his Nuffield tie from the Duke of Gloucester at the Annual Nuffield Conference, held this year in Belfast. Others in the picture are Rob Clayton from the AHDB (Sponsor) and Wallace Hendrie, the Chairman of the Nuffield Farming Scholarships Trust. The title of the scholarship: 'Building a Sustainable Future for the UK Potato Industry', will be published and presented at the annual Nuffield Conference in 2017.