Brexit Meeting with Environment Agency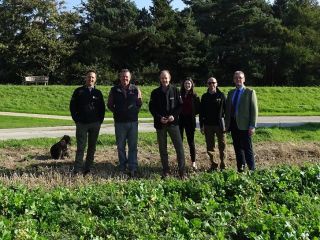 On the 10.10.18 a meeting was held on Richard Barmley's farm near Selby with representatives from the EA, NFU, PepsiCo and R S Cockerill.
Richard explained how areas of his farm are at risk of flooding, the impact and what can be done to reduce this risk.
A discussion followed about the negative effect off flooding to the whole supply chain, the importance of irrigation to potato crops and good drainage. Solutions like large winter catchment areas which can be used to reduce the risk of flooding and supplement river levels in times of low rainfall were debated.
We also touched on how Brexit could affect our business, no simple answer on that one!
Richard showed us a cover crop in a winter wheat stubble explaining the benefits to him, the environment and carbon capture.
Many thanks to Richard for hosting and leading the meeting.